THE LONG JORNEY
Ascent of the 7 highest mountains of Europe only with human condition. The first summit was Mont Blanc in France/Italy and the last one was Triglav in Slovenia. The route between these mountains was only covered on foot or by bike.
The following mountains belong to the European 7 Summits:
Mont Blanc in France (4.810 m)
Gran Paradiso in Italy (4.061 m)
Dufourspitze in Switzerland (4.634 m)
Großglockner in Austria (3.798 m)
Zugspitze in Germany (2.962 m)
Grauspitze in Liechtenstein (2.599 m)
Triglav in Slovenia (2.864 m)
Hard Facts:
16.468 vertical meters & 225 km ski touring, hiking, mountaineering and climbing
1.355 km & 16.498 meters in altitude by bike
Due to the poorly predictable weather on more than 4,000 meters, the highest mountains have been the first ones in the challenge. The start was in Chamonix in the village center and the bike was ready for the first time in Courmayeur after the ascent of Mont Blanc. From there I got with the bike to the next mountains. The mountains themselves have then been climbed on foot or by ski touring. A camera team has also documented my challenge as well as various GPS-devices. The escort vehicle primarily serves the camera team and supports the athletes with food and equipment.
Every single meter and elevation gain was mastered by myself.
And due to the lock of the Forka pass and the Saint Bernard pass, i cycled from the last mountain the Triglav more than 300km to the sea in Slovenia to make up for the car driven route…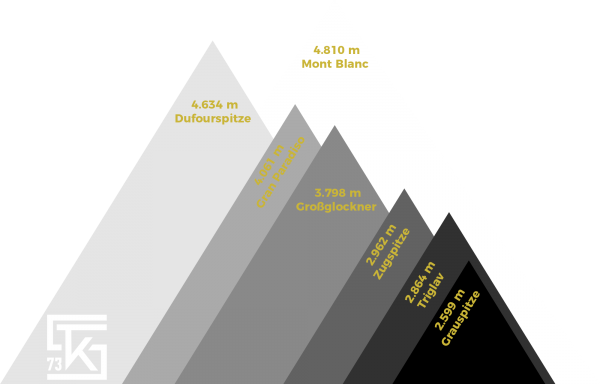 Overview of the European 7 Summits
The European 7 Summits challenge took place almost in the whole area of the alps. We startet in France with Mont Blanc, then came to Italy for the Gran Paradiso. After this we've been in Switzerland for the Dufourspitze and in Liechtenstein for the Vordere Grauspitze. In Germany we climbed the Zugspitze and in Austria the Großglockner. Our last mountain has been Triglav in Slovenia.
We finished everything together nonstop in 13 days. The rules were no artificial climbing aids, no cable cars and no car. We did this by fair mean – only with human power. The highest point has been Mont Blanc with 4.810 m and the lowest point was Feldkirch with 438 m.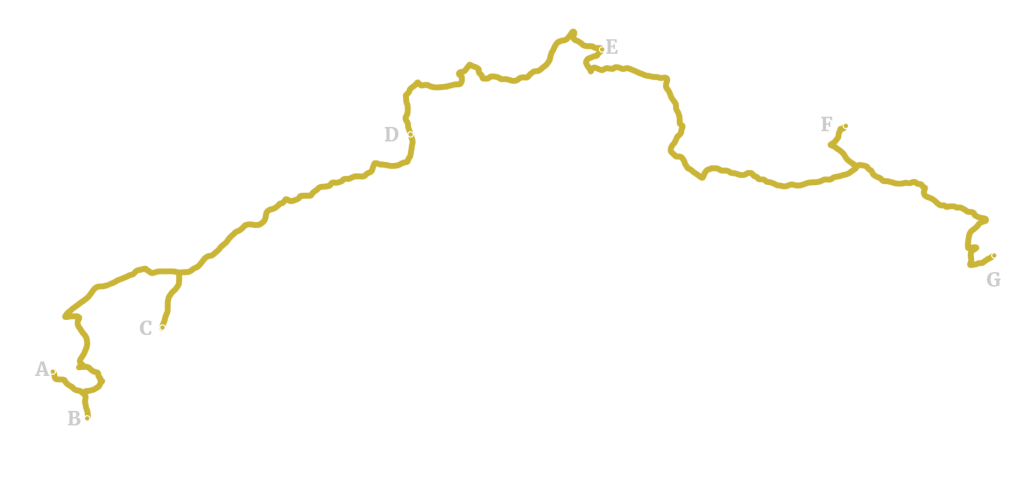 Route of the European 7 Summits
1=Mont Blanc, 2=Gran Paradiso, 3=Dufourspitze, 4=Vordere Grauspitze, 5=Zugspitze, 6=Großglockner, 7=Triglav
A=Courmayeur, B=Pont, C=Zermatt, D=Malans, E=Ehrwald, F=Kals, G=Trenta
Special partners for this project: