"We are still on the way to Pumori (7.161 m) and have attached 1.400m fixed rope and almost reached Camp III on 6.500m."
News from Russell Brice – Himalayan Experience (18.04.2019):
"Hi all,
Here I am yaking away again, which might be a surprise to some who thought that I had retired !!!!
Here we are starting my 59th 8,000m and 24th Everest expedition.  Actually we started on 25 March, so we are already quite advanced on the expedition, and have now been at Base Camp for 12 days.
Our team consists of:
| | |
| --- | --- |
| Phurba Tashi | BC Manager (He has climbed Everest 21 times and 37 x 8,000m peaks, so is quite able to do this job) |
| Son Dorgee | Climbing Sherpa |
| Nima Sona | Climbing Sherpa |
| Ang Karma | Climbing Sherpa |
| Phura Namgyl | Climbing Sherpa |
| Mingma Sona | Climbing Sherpa |
| Tenjing Tashi | Climbing Sherpa |
| Tashi | Camp 2 cook |
| Lachhu | BC cook – trek leader |
| Ghanu | BC cook |
| Phuri | BC cook |
| Lakpa | BC Sherpa cook |
| | |
| --- | --- |
| Terence Byrne | Pumori & Everest, UK |
| Daniel Clements | Pumori & Everest, UK |
| Martin Hewitt | Pumori & Everest, UK |
| Ian Hocking | Pumori & Everest, UK |
| Stephan Keck | Pumori & Everest, Guide, Austria |
| Jacobus Strydom | Pumori & Everest, Australia |
| Mark Woodward | Pumori & Everest, Guide, New Zealand |
| David Thorne | Pumori, UK |
| | |
| --- | --- |
| Diana D'Alssandro | Lobuche, Switzerland |
| Richard Harvey | Lobuche, USA |
| Mark Zimmermann | Lobuche, Switzerland |
| | |
| --- | --- |
| Samantha Baynes | BC Trek, UK |
| Shawn Codinack | BC Trek, USA |
| Petra Gardiner | BC Trek, Australia |
| Pamela Ritz | BC Trek, USA |
| | |
| --- | --- |
| Nadia Hocking | BC support, UK |
| Margo Rhys-Jones | BC chef, New Zealand |
| Yogesh Subedi | Doctor, Nepal |
| Russell Brice | BC hanger on, New Zealand |

This year we have decided to climb Pumori for acclimatization rather than Lobuche. There are several reasons for this, but in 2009 when we first went there we were one of just a few teams that used this 6,100m summit for acclimatization. At that time the C1 was clean, and had a good water supply, but in recent years more and more local Nepal companies have been operating trips there, and have not been removing their rubbish and human waste. Last year there was even a dead yak in the main water supply. But last year when we went to camp on the East Summit we found that there was a crevasse and this did not allow enough space for us to safely camp there, so we had to camp lower down on the peak, which did not offer the same acclimatization. But also I have been watching Pumori since the earthquake in 2015. At the time of the earthquake there were many seracs that threatened the normal route, and so did not really make it a safe route to climb. But these seracs fell down which created the devastating avalanche through BC. But in recent years I have noticed that the route appears to be much safer. The authorities for some unknown reason increased the peak fee for Lobuche to $250……of course we have to pay more per person for Pumori, but we now can operate from the EBC which saves us building a separate Lobuche BC, and saves us the rather complicated logistics involving porters and yaks, between the two Base Camps.
Right now we have established fixed lines up to C2 at 6,450m, which is higher than C2 on Everest, and today we carried camping equipment and more rope to the C2 site. We will still require another camp on the peak before attempting the summit. But if we are successful on reaching the summit, this will mean that we need to spend less time acclimatizing on Everest, which means less trips through the icefall, and also means that we will require less food and fuel at C2 on Everest, and this means that our Sherpas have to do less trips through the icefall.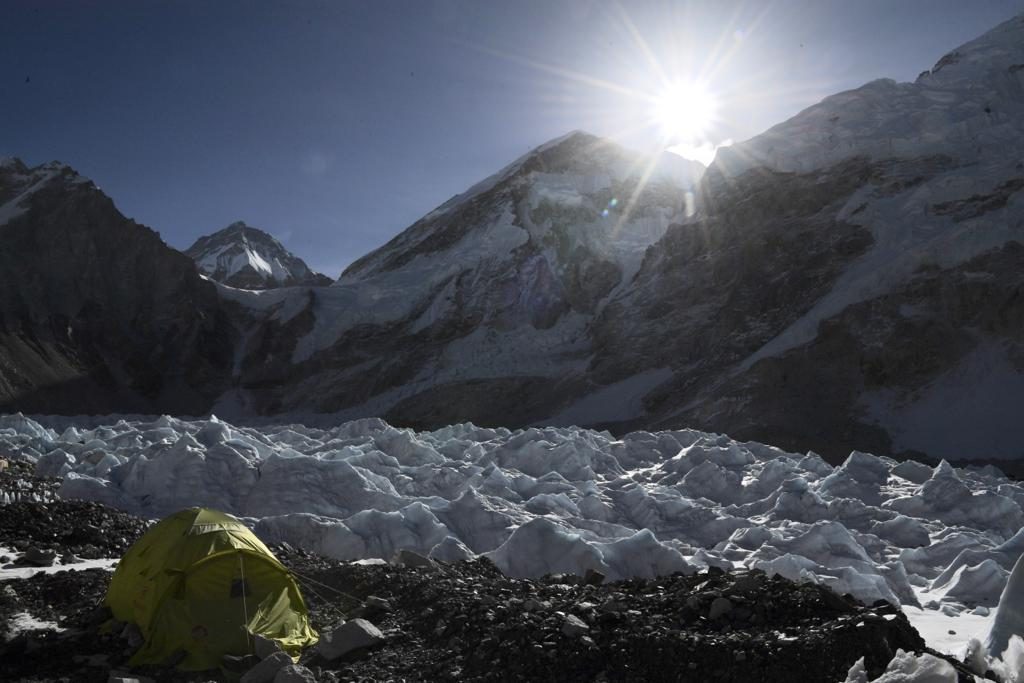 Over the years we have been trying to reduce the Sherpa loads through the icefall. It took several years for the authorities to accept that we could leave our C2, packed away in a secure manner in the cwm during the off season, this saved our Sherpas having to carry tent poles up and down every year needlessly. When we were involved with the rope fixing we also asked the authorities for several years to be able to carry all the rope fixing equipment to C2 by helicopter. We also eventually gained this permission. We continue to ask for all loads to be carried by helicopter, but the powers that be, who sit in offices in Kathmandu, do not really care about the danger that Sherpas are in on the mountain.
The latest I have heard is that some officials did make it to C2 last year, and they saw quite a lot of rubbish. Despite many telling them that this was the remains of fully working camps that had to be abandoned in 2014 and 2015, and that subsequent years there has been too much snow to find and remove these camps which of course are now rubbish. So now these officials want us to bring our camps back down……..no way. Apparently one official actually asked if there were many cars dumped in the Western Cwm.
Of course this is always a busy time for porters and yaks, as tons of equipment is shifted from Kathmandu to Everest Base Camp for the climbing season. This normally starts with loads being put on a truck to be driven for one day from Kathmandu to Tak Shindu which is near Phaphlu. From here it is taken by helicopter for 15 minutes to Sangboche. There we use yaks from our Sherpas to carry the loads to EBC, a 5 days return trip.
But the life of yak herders and yaks has been changing in recent years. There used to be over 3,000 yaks in the area, but now it is estimated that there is only about 1,000 yaks. Although it is nice to see these splendid animals on the trail, apparently it is getting too expensive to own and operate yaks, because they require so much attention. Two years ago more than 150 yaks were sold to farmers in Tibet, transported by trucks. A yak is worth anything from $600 – 800. In 2013 the Tibet border was closed to Tibetians, and so now there is no new breeding stock entering into the area, reducing the number animals that the local farmers can breed from. The local farmers need to have high pastures where they can grow grass. This they need to cut and then carry down to the lower villages so as they can feed this grass to the yaks during the winter months. Although we all see many yaks walking along the trail, they actually only do any work during the peak trekking / expedition seasons, so in fact they might only do 30 – 40 days of work a year. A strong yak can do two trips to EBC before it needs a rest. Older and weaker yaks will only do one trip before being rested. However the yak is quite efficient in another way, the farmers collect the yak dung and dry it, before using it on very efficient fires that they use to heat their homes during winter.
But there are other problems confronting the yak farmer. Between Namche and EBC there are now about 10 – 16 Snow Leopard. A few years ago, these shy but elegant animals killed about 5 yaks a month, but now it appears that they only kill 1 – 2 a month, so the farmers tolerate this in the sake of preserving the Snow Leopard. But what is now of concern to the farmers is the increasing population of Tibetan Wolf. This animal never existed in Nepal, but in recent years the population has been steadily increasing as more and more wolves migrate (without passport) from Tibet to Nepal. We can only believe that this migration is occurring because of the lack of food on the Tibetan Plateau, and a more ready food source in Nepal.  Four years ago just 20 yaks were killed by wolf, but now there is about 250 yaks a year being killed by wolf. It is estimated that there are various packs of wolves numbering from four to seven per pack with a total population in excess of 25 animals. It is apparent that a lone wolf does not present too much of a problem to a yak, but when in a pack, they are easily able to kill a yak. In fact during our trips from EBC to C1 on Pumori we have seen tracks in the snow that the Sherpas tell me are from a lone wolf. Up until this year I had never hear about the wolves, now it seems they are becoming a problem. Just a useless bit of information to pad out our newsletter….which is actually rather boring. We walked from this village to the next village, we got to EBC and put up tents, we then went for a walk through BC, and then for a walk to Kala Pattar, it snowed most afternoons….but the morning are fine.
Of course the old story of the yaks…..who also migrated to the mountains goes something like this:
A group of Water Buffalo got together in Kathmandu, and they were looking at the mountains and were saying that it must be nice up there, with nice clear skies, nice green grass, and very peaceful. So they decided to send an exploratory expedition up into the hills to see what it was like, and then report back. They figured that it would be cold up in the mountains, so all the other Buffalo donated their hair to the exploratory animals. Sure enough when these animals got to the mountains, the skies were clear, and the grass was green and plentiful, but it was also cold. These animals liked it so much here that they decided to stay. That's why today, the Water Buffalo have no hair and are always looking up into the sky looking for their mates to return. And the Yak has a lot of hair, and he is always looking down on the ground because he is ashamed for not going back down to report back to his mates.
Snow last night and wind predicted tonight, so not too much happening at BC today."
(This news update was written by Russell Brice: http://himalayanexperience.com/2019/04/18/daily-moraine-everest-2019/)