News from Stephan Keck
Martin Hewitt, guide Mark "Woody" Woodward, Sherpa Tenjing Tashi and I reached the summit of the 7.161 meter high Pumori on 02.05.2019 around noon.
It had about 80km/h wind, minus 20 degrees and it was cloudless.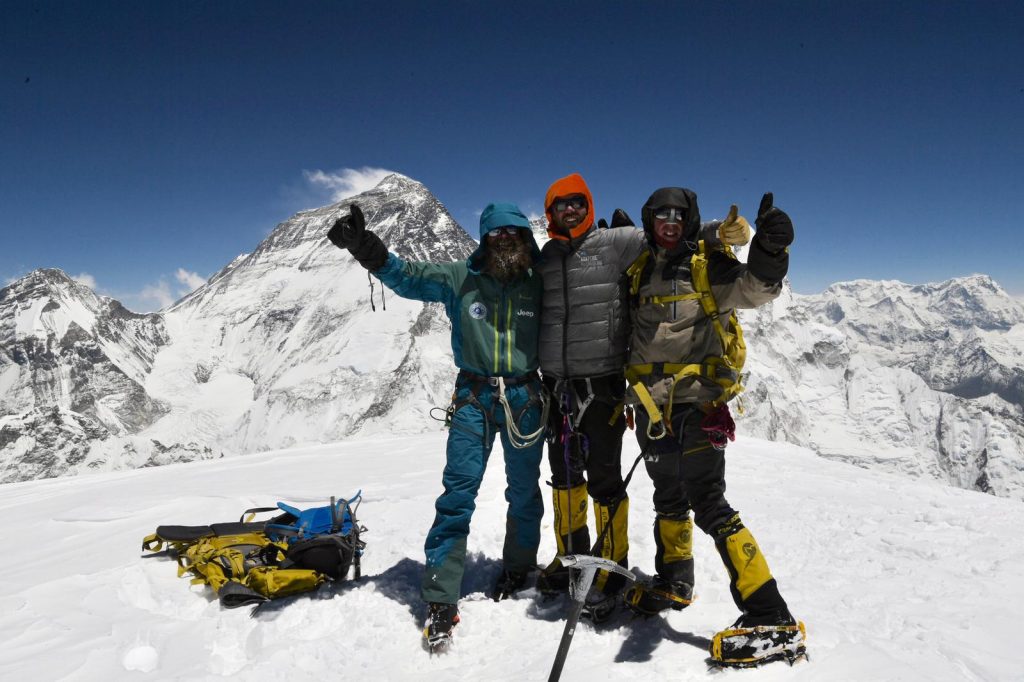 A few words about the background from the team:
Two injured war veterans – Martin Hewitt and Terry Byrne – are attempting Mount Everest this May, as part of the Adaptive Grand Slam (AGS) initiative, which was created by entrepreneur Martin to allow people with life-changing injuries and disabilities to take on some of the world's toughest extreme challenges. To date, over 25 AGS team members have undertaken expeditions.
 If successful on the world's highest peak, former Parachute Regiment soldiers Martin and Terry will be close to becoming the first disabled adventurers to complete the Explorers Grand Slam, a global challenge to trek to the North and South Poles and reach the highest peaks on each of the seven continents. Both men sustained life-changing injuries during tours of Afghanistan but have since become world class athletes. Martin lost the use of this right arm when he was shot in the chest, and Terry lost his right leg below the knee what he was blown up by an IED.
Only 66 people on the planet have completed all nine stages of the Explorers Grand Slam. If successful on Everest, Martin will only have two more mountains left to climb and the South Pole to reach to become the first disabled person to complete the full challenge. Terry is two stages behind and needs to reach the North Pole and summit Mount McKinley to catch up with his colleague.
Martin was shot in the chest while on patrol in Afghanistan in 2007, leaving his right arm paralysed. After rehab he joined the Armed Forces Para Snowsport Team and represented the UK as part of the GB Paralympic ski team. He reached the North Pole in 2011 with the Walking With The Wounded team and in 2012 attempted Everest – also with WWTW – but the team was forced to abandon their summit attempt due to avalanche risk. The team was climbing with Russell Brice and HimEx, which is why Martin chose to be a part of their team for this attempt in 2019.
Terry lost his right leg and a little finger in Afghanistan in 2008. He turned to cycling and was selected for Great Britain's Paralympic cycling team just four months after his amputation. In 2011 he won the World Championships.
 Martin, 38, from Wilmslow, explained: "Footwork is key for me, as is balance. I have a dead weight on my right side, pulling me down, so I am naturally off balance on ladder crossings. Having attempted Everest before helps, but it's a doubled-edged sword. I know what to expect, but at the same what I am expecting isn't going to be pleasant."
Father-of-two Terry, 34, from Colchester, walks using a prosthetic limb. He said: "I'm fit and confident, but even then, we still need a bit of luck with the weather. Being a father means that psychologically its very much about coming back safely.  If we are successful it will be an amazing experience."
 The Adaptive GrandSlam team is supported by the AGS Foundation, which is a charitable grant-making body that raises money to fund the expeditions. Anyone with a disability can apply to join the AGS programme, which runs varied expeditions around the world for different levels of disability. One team recently completed an unsupported rafting mission down the Moa river in Sierra Leone.  Paying clients also go on training trips with the team, ensuing that the initiative is sustainable. The team also relies on sponsorship.
Olympian Homes is the lead sponsor for the Everest expedition and we are delighted to have the support of Shackleton London too.
The AGS is a way for people who have life-changing injuries or who have disabilities to engage in a genuine challenge which is going to push them and give them a focus. In time the aim is to employ disabled people too or help them back into work, as giving people a challenge gets them to think independently and develops their physical and mental health.
 For more information please see  http://www.adaptivegrandslam.com